OUR MISSION:
The problems of the world are not going to be solved by governments, corporations or religions, but by people around the world working together as one, with a common focus that is consistent, persistent and insistent in its scope.
Each day Karma Club members all over the world will wake up and on their cell phones, computers and devices, there is a daily Planned Act of Kindness that they can do with their family, friends, co-workers and in their community.
The goal is to have tens of millions of people doing the same thing on the same day, and unleashing that much powerful, positive energy into world. And because many problems take more than one day to effect change, we have the Cause of the Month as well.
So again, we ask you to volunteer and add your efforts to the chorus of activists that embrace all segments of society, as we strive to create the peace and harmony that will give balance to world, and bring happiness and longevity to its children.
The Time To Get Involved Is Now!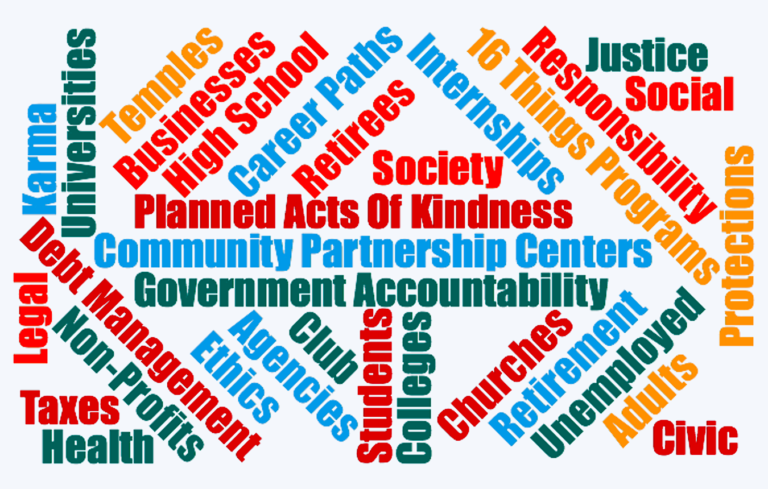 WHO DO WE HELP?
• Students
• Employees
• Owners
• Retirees
• Unemployed
WHERE DO WE HELP?
• Schools
• Churches/Temples
• Non-Profits
• Agencies
• Businesses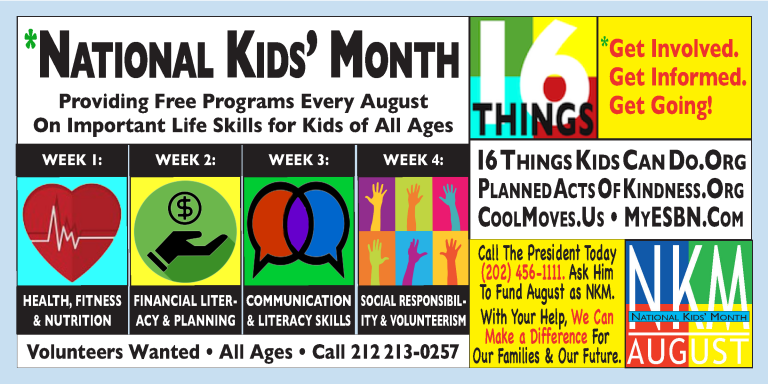 National Kids' Month
National Kids' Month helps bring community outreach down to the kids level.
With support from Governors, Mayors and People of Influence around the country, we are asking the President to issue a Proclamation establishing August as "National Kids' Month." Each week will have a series of free workshops and activities across the country in conjunction with schools, churches & temples, nonprofits, government agencies, and businesses offering education and action plans on the following subjects:
Week 1: Health, Fitness & Nutrition
Week 2: Financial Literacy & Financial Planning
Week 3: Communication & Literacy
Week 4: Social Responsibility & Volunteerism
International Kids' Month
We are taking National Kids' Month to the United Nations and having them promote the program to their member countries … because children all over the world can benefit from the education and action plans.

Help Make It Happen!
Entrepreneurs Small Business Network
Custom Education Programs to get you the training you need to succeed in life!
Entrepreneurs Small Business Network
The Entrepreneurs Small Business Network works as 16 Things' business and financial services outreach partner. Custom education:  When we sit down to help people, everyone is not the same, so we provide custom solutions. We find out what their objectives are, where they currently are, and then educate them on the best way to achieve their objective.
Custom Action: When we present plans, we don't charge the people we help. If they like the recommendations we make, they pay the company we recommend. and then that company compensates us out of future profits. After all, who can afford it more, the individuals and families we're working to help, or a multi-million, multi-billion dollar company?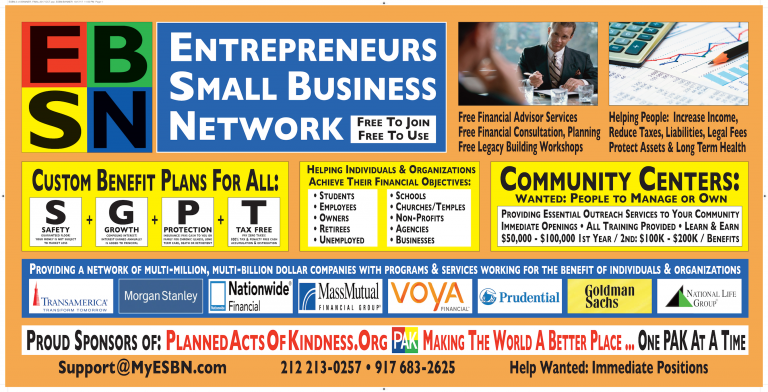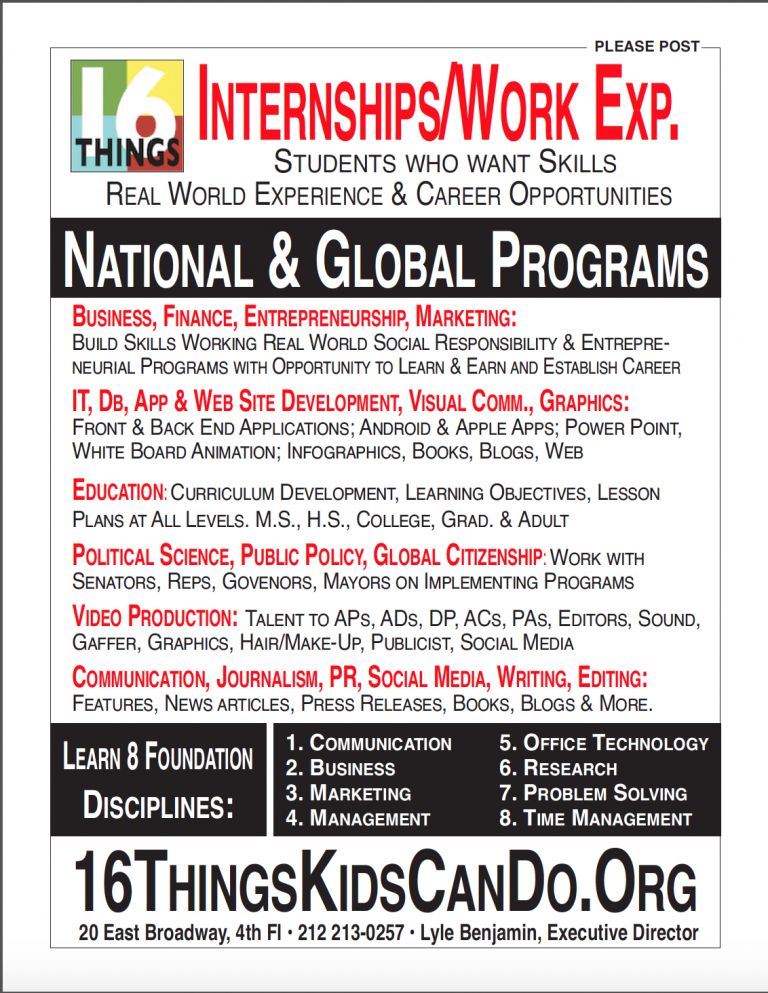 Reference Book Series
Reference Book Series is as great way to pass on the knowledge of industry experts to those who need it most.
16Things' Executive Director and author, Lyle Benjamin, has created an educational Reference Book series endorsed by Mark Victor Hansen (Chicken Soup for the Soul), where each book depicts 16 problems people encounter in specific areas of their lives, their normal unproductive responses, and "The Real Deal" – the steps they need to do and why – to solve the problems.
Each problem is also addressed by two industry experts that give their testimony as to the why and how to solve the issue. Experts have their photo, credentials, achievements, website, e-mail and social media published in the book to enhance the credibility of their testimony.
100,000 copies of each title will be produce with books available through sponsors, schools, churches/temples, non-profits, government agencies, businesses as well as bookstores and magazine stands with a total circulation of over half a million per title.
Board of Advisors will be established in different countries that will be in charge of culturally adapting each book to their own country by having their own national experts for each title. Because what works in the United States may not work well in other countries around the world.
Better Communication & Literacy Workshops
The books form a network of reference books that are used in "Better Communication & Literacy Workshops." These are workshops where youth get together (adults get together separately) and they read out loud from the book the problems and solutions, and have a group discussion about the issues. The books are expert reference books and the workshops are peer support groups.  The reason why people join fraternities and sororities in colleges is that they want the social interaction; they want the connections for later on in life; and, they want to develop friendships. These are the same benefits they get from the workshops.
The Time To Get Involved Is Now!
Entrepreneurship & Business Development Programs
Entrepreneurship & Business Development Programs to help you build your business.
• Social Entrepreneurship Program:  Connect with Franchises around the country to provide them with our exclusive Social Responsibility Outreach Program that combines branding, marketing, advertising, public relations, employee custom benefits programs with double digit growth
• Community Partnership Center Business Ownership Program:  Learn how to establish, manage and own a CPC in any city around the country — all in about three months
• Book Publishing:  Work on the business side of 16Things' hybrid book series that combine the longevity of reference books with the color and circulation of magazines
• Basketball & Bonding Sports & Financial Literacy Program:  Education and action plan for parents coupled with basketball training and fun for kids
• B2B Community Circulars:  Service and product discount program to benefit local businesses and  residents produce for schools, churches, clubs, NPOs, businesses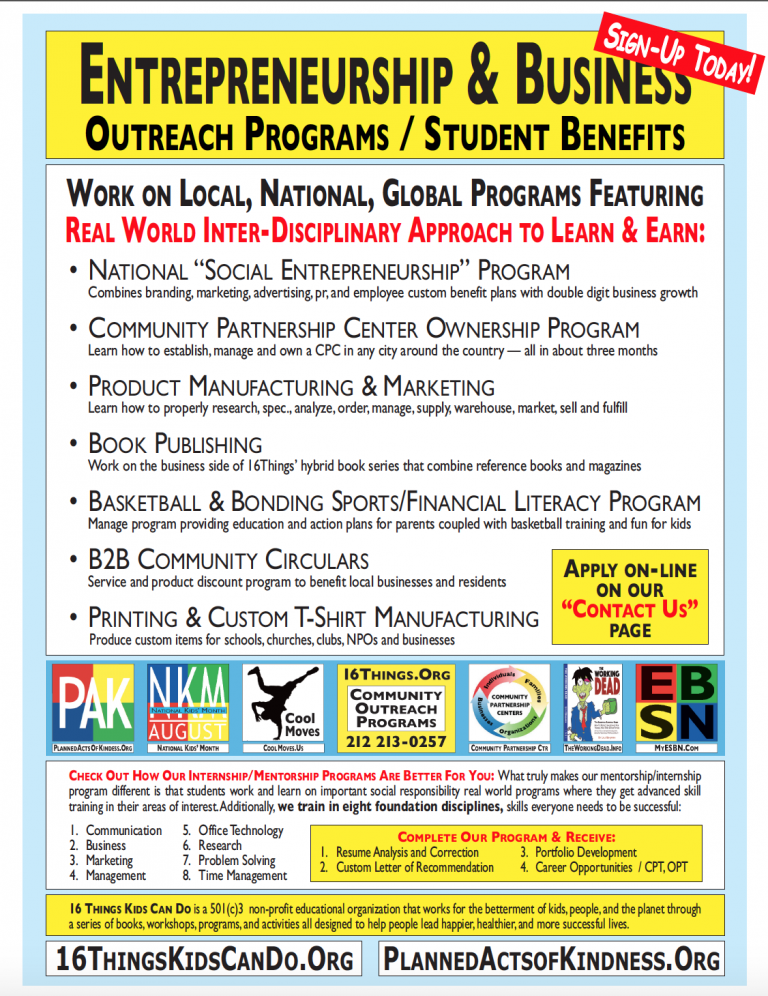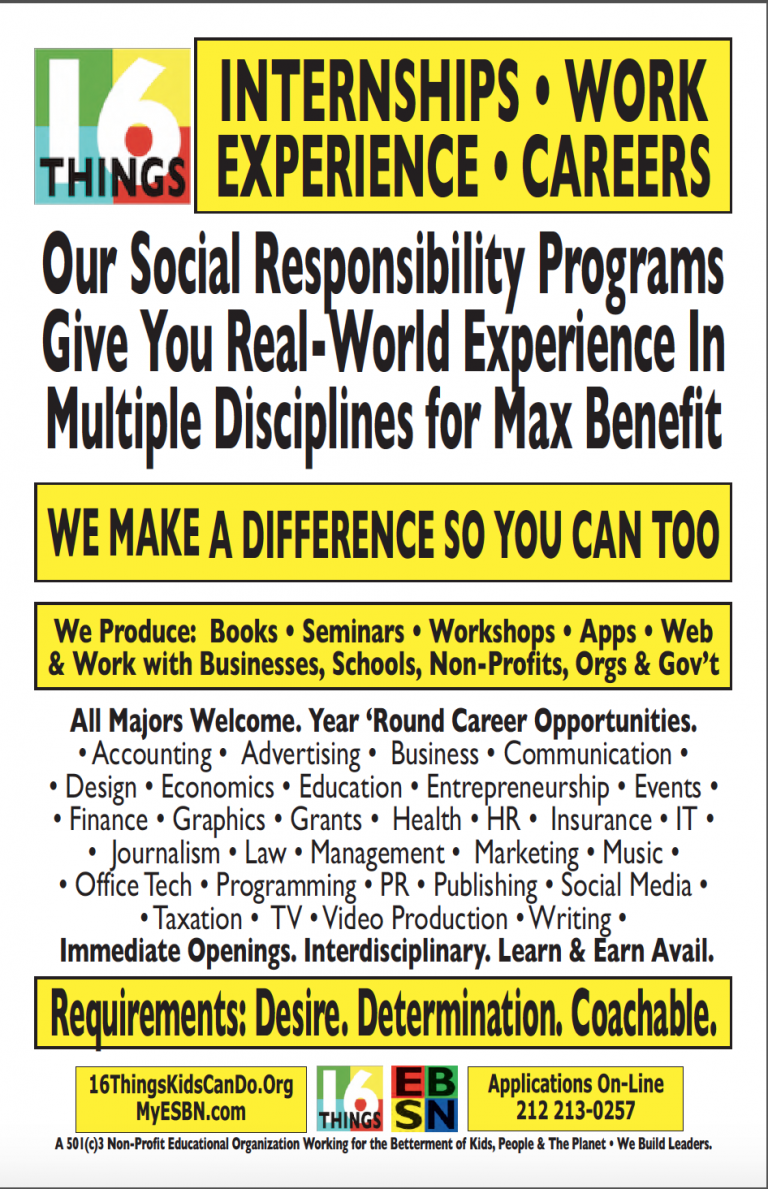 Internship/Mentorship Program
Internship/Mentorship Programs to help you learn or teach skills in a positive atmosphere.
Internship/Mentorship Program
What truly makes our internship/mentorship program different is that students work and learn on important social responsibility real world programs where they get advanced skill training in their areas of interest while adding in eight foundation disciplines — because these are the skills people need to be successful, both professionally and personally, and they are not taught comprehensively in school:
1. Communication
2. Business
3. Marketing
4. Management
5. Office technology
6. Research
7. Problem Solving
8. Time management
Students that complete the program receive the following additional benefits:
1. Resume Analysis and Correction
2. Custom Letter of Recommendation
3. Portfolio Development
4. Career Opportunities  / CPT, OPT
Business/Entrepreneurship: Marketing, Business Management, Finance, Advertising, PR, Communications, Social Media for Books, Workshops, Programs, and Television.
Publishing: Graphic Design, Writing, Business Management, Marketing, Advertising, PR & Communication, Special Events for Book Printing & Distribution.
Video Production/Visual Media: All phases of Pre-, Production, Post-Production for Television, Internet TV and Special Programs including one-hour "16Things TV Magazine" series, Educational Events/ Workshops, and 24-Hour Telethons.
App, Web-Site Development & Computer Programming: HTML, ASP, Sql, Photoshop, Web-Site to Database, Shopping Cart, Android & Apple App Development; WordPress Site Development.
Graphic Arts: Photoshop, InDesign, Illustrator, Quark, Flash, Shockwave for Books, Board Games, Publication & Print Work, Web-Site Construction, Apps.
Meetings & Special Events: From Location Scouting to Coordination and Management for Workshops, Fund-Raisers, Galas, Auctions, Seminars, Auditions, TV Production Shoots. ​
Do Have The Desire & Determination To Develop into Someone That Really Makes a Difference?
Youth & Adult "Learn & Earn" Programs
Youth & Adult "Learn & Earn" Programs to help you succeed in life.
LEARN:  The "Youth Learn & Earn" program is designed to provide high school and college students, veterans, etc. with training in real-world skills while working on social and business related programs that benefit the community. Trainees in the 3-month program learn communication, business, marketing, management, office technology, research, problem solving and time management skills.
EARN: Participants have the opportunity to put their training and skills to use to earn significant income per week by program completion. Upon graduation, participants can elect to stay in the program as a full-time career position earning between $36,000-$48,000 annually.
Helping Build Strong Foundations
To Transform Individuals, Families & Communities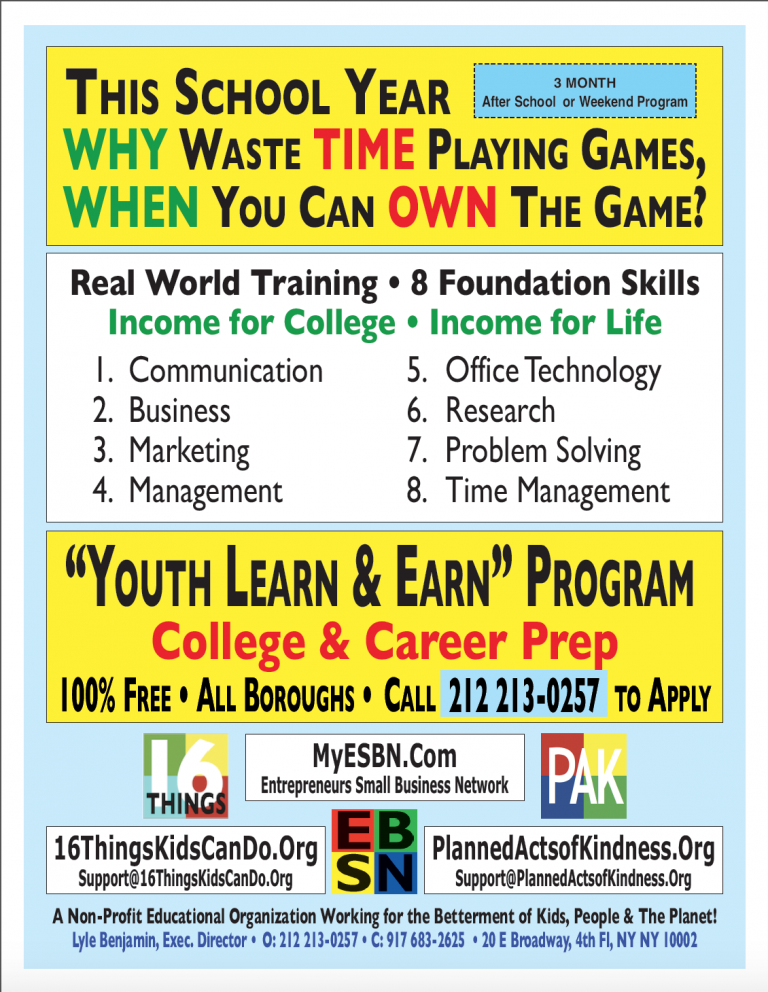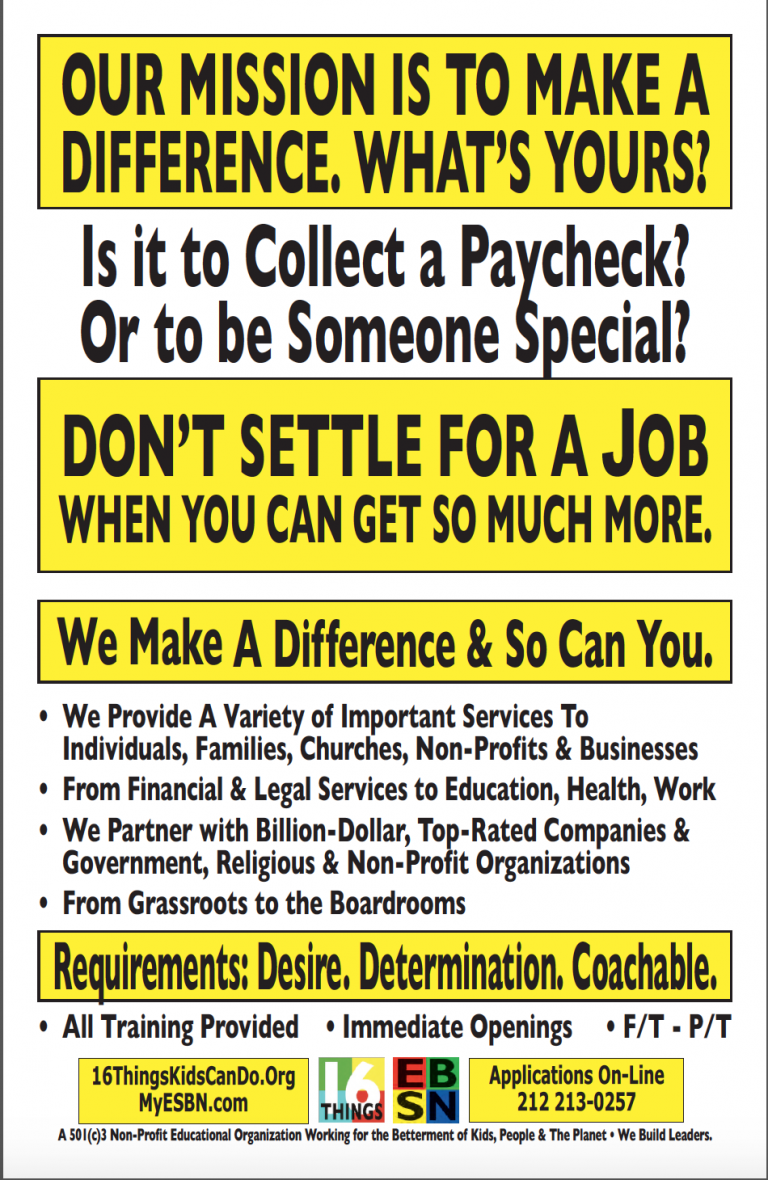 Adult Work & Career Programs
Adult Work & Career Programs to help you build the life you always dreamed.
One of the fundamental areas that people struggle with over their lifetimes is money. More specifically, finances. In keeping with our mission, we created several excellent programs that provide people with the opportunity to learn and earn a five- or six-figure income while helping educate and protect individuals and families on many important areas of their lives.

We provide free college and community based financial education workshops to teach people financial concepts they need to know in order to build effective retirement plans, educational funding plans, and estate preservation plans.
If you think you already know this information, it's still worth it to check out. We meet with CPA, CFP, CFAs, Owners, Businesspeople, Educators, MBAs, Lawyers, Accountants, etc. 95% don't know what we teach.
Our goal is to give everyone, regardless of education or income, the tools they need to become financially independent and achieve their goals and dreams. And that doesn't mean that you scrapped together $50K, $100K or even $300K: Our goal for you is to be able to live off the interest that your assets generate — so you never have to eat away at your principal and run out of money.
Most importantly, we make sure our client's hard-earned savings and investments are never at risk due to market loss or health issues (like chronic or long term care if qualified).
​This is a government regulated, licensed professional career position in the financial services industry — However, no prior experience is necessary. All training is provided and you can earn while you learn. The only things you need to bring are your (1) desire to help people (2) determination to be successful and (3) a willingness to learn.
Achieve Your Dreams
In Service To Others